09.03.2010

A few more reviews about "Amon vs. Mortar" are now available here.


22.04.2009

A new review about "Foundation" was recently published on the Prog Archives website. The review was written by Philippe Blache and is available here.


15.04.2009

One more review about "Amon vs. Mortar" was recently published on Chain D.L.K. The review was written by Andrea Ferraris and is available here.


30.03.2009

A new review about "Amon vs. Mortar" was recently published on the Gothtronic webzine. The review was written by Bauke and is available here.


12.03.2009

More reviews about old Never Known works were recently published on the Prog Archives website. The reviews were written by Philippe Blache and are available here, here, here and here.


18.02.2009

New reviews about some Amon / Never Known works were recently published on the Prog Archives website. The reviews were written by Philippe Blache and are available here, here, here and here.


02.12.2008

An "Amon vs. Mortar" CD-R is out now on Afe. This is the expanded re-issue of a limited LP vinyl album entitled "From the Grave", which was released by Oktagön Records in 2000 and miscredited to Mortar only. The complete press release is available here, copies are available for sale through the Afe mail-order.


03.11.2008

A review about Amon / Nimh "Sator" was recently published on the Soundmark webzine. The review was written by Davide Buzzoni and is available here.


10.09.2008

A review about Amon "El Khela" was recently published on the Prog Archives website. The review was written by Philippe Blache and is available here.


04.09.2008

A new review about Amon / Nimh "Sator" was recently published on the Prog Archives website. The review was written by Philippe Blache and is available here.


19.06.2008

A new review about Never Known "Once In a Lifetime [Remastered Edition]" appeared on Sonomu. The review was written by Stephen Fruitman and is available here.


11.06.2008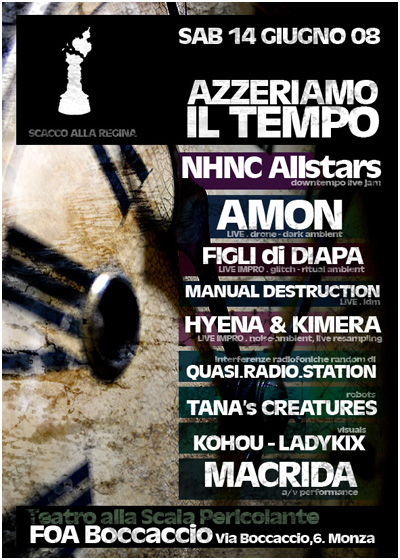 Andrea Marutti will perform a dark-ambient solo concert as Amon during the Scacco alla regina / Azzeriamo il tempo night at FOA Boccaccio. Many artists from the No Human No Cry collective will be on stage too, including Figli di Diapa, NHNC Allstars, Manual Destruction, Hyena & Kimera and more.


22.03.2008

Some pictures and an audio excerpt from the concert played by Andrea Marutti as Amon on March the 18th 2007 during the last night of Margini Sonori II happening at Barrio's Cafè are now available on the ODRZ website. Here's the direct link.


17.03.2008

Margini Sonori is a festival organized by ODRZ, the last night of the second edition will be staged on Tuesday 18 March 2008 at Barrio's Cafè, Milan (Italy). On such occasion Andrea Marutti will perform a dark-ambient solo concert as Amon at 10:00 p.m. followed by Canadian noisers Griefer and Brutophilia. Admission is free, more information is available here.


08.01.2008

Andrea Marutti's latest CD album entitled "The Subliminal Relation Between Planets (Live in Archiaro)" is out now on Nextera. The album was recorded live in Archiaro (Albi, Catanzaro, Italy) in August 2007 and is a 74 minutes excursion into ambient / dark-ambient territories. A few copies are available for sale through the Afe mail-order.


12.07.2007

Hall of Mirrors is an experimental music project founded by Andrea Marutti (Amon) and Giuseppe Verticchio (Nimh) in 2005. Their first album entitled "Reflections on Black" was released by Silentes in early July 2007. Some copies are available through the Afe mail order.
Hall of Mirrors utilizes different collaborators on each work, guests on "Reflections on Black" were Giulio Biaggi (Nefelheim) and Daniela Gherardi.


16.06.2007

Quite a lot of new reviews about "Sator" have been added to this website, you can read them here.


26.05.2007

A new edition of Never Known's "Live at the Cosmic Egg, 10.06.2000" is out now as part of Afe Records' most recent bunch of releases. The first edition of this album was originally published by Centiens, a division of Anaemic Waves Factory, in October 2000 and is sold-out since long time. For this new edition, all tracks were remastered - and sometimes slightly reworked - from the original Dat recording by the author in March 2007 at Lips Vago Digital Studio.

A completely remastered version of Never Known's "Once In a Lifetime" was also released recently by Afe Records. Following "Dawn of an Era", "Once in a Lifetime" was Never Known 's second release. Recorded between August 1994 and August 1995, it was published by Murder Release as a C46 tape in September 1995. The tape was subsequently re-released on CD-R by Afe in March 1999. For this new edition, all tracks were remastered from the original tapes by the author in March 2007 at Lips Vago Digital Studio .


01.05.2007

Andrea Marutti's first full-lenght release published under his own name is out now on Opaco Records. "The Brutality of Misbreathing" is a one hour journey between dramatic dark atmospheres and drone-based ambiences in slow and continous evolution. Some copies are available through the Afe mail order.


24.04.2007

New reviews of "Sator" and "Foundation" are available. A report about "The Big Sleep" night is also available on Drexkode, here's the direct link.


17.04.2007

A new interview with Amon / Andrea Marutti conducted by Fabrizio Garau is now available on Audiodrome, here's the direct link.


02.04.2007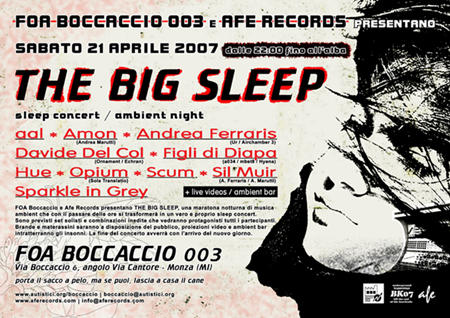 FOA Boccaccio and Afe Records present THE BIG SLEEP, a long ambient / electronic night that, as hours pass, will turn into a real sleep concert. The musicians/bands that will take part to the concert are the following: aal / Amon / Andrea Ferraris (Ur / Airchamber 3), Davide Del Col (Ornament / Echran), Figli di Diapa (a034, mbst8 e Hyena), Hue, Opium (Sola Translatio), Scum, Sil Muir (Andrea Ferraris e Andrea Marutti), Sparkle in Grey. Please click on the concert flyer for more information.


01.04.2007

Afe Records will release two Never Known CD-Rs: a remastered version of "Once in a Lifetime" sourced from the original tapes with a restored artwork, and a remastered version of "Live at the Cosmic Egg, 10.06.2000" - originally released by Anaemic Waves Factory in October 2000 - which will come in a brand new artwork. Both discs are supposed to be available for sale in late April / early May 2007.


14.03.2007

New reviews of "Sator" are available here.


15.02.2007

"Sator" by Amon / Nimh is out now on Eibon Records, have a look here for more details about it.


21.12.2006

During 2005 Andrea Marutti and Giuseppe Verticchio (Nimh) met to record a few tracks together and they ended up creating two albums worth of material. "Sator", the Amon / Nimh first collaboration is going to be released by Eibon Records in early 2007.


07.10.2005

Amon and Never Known official pins/buttons are now available through the Afe mail-order.


12.04.2005

The double Amon CD "Foundation" is out now on Eibon Records / Afe and is available through the Afe mail-order.


30.03.2005

The Amon / Never Known website is being reconstructed and will be on-line very soon. Many thanks for your patience.