| | |
| --- | --- |
| | Never Known: On the Edge of Forever |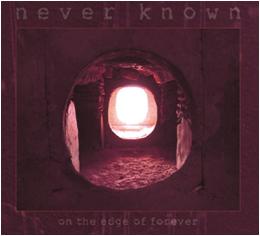 | | |
| --- | --- |
| | Details |
Label: Eibon Records [nev021]
Format: CD in gatefold digipack
Tracks: 8
Playing time: 69:10
Release date: May 2000

| | |
| --- | --- |
| | Track list |
1. Spheres 5:08
2. Thaolian Dawn 10:56
3. Naked Time 7:27
4. Beyond Seasons 7:30
5. Hila 8:05
6. Secret Wealth 7:21
7. Within a Memory 8:11
8. On the Edge of Forever 14:30

| | |
| --- | --- |
| | Press release |
"On the Edge of Forever" is the long time delayed follow up to "Twilight's Last Gleaming". All the music on this release was recorded between March 1999 and January 2000. "Secret Wealth" was constructed around essential samples provided by Raffaele Serra, and Riccardo Marmugi played his beloved Memory Moog on the closing section of "Beyond Seasons". While Amon has gone darker and darker with each release, this Never Known CD is very ambient and introduces some analogic moments and melodies.
| | |
| --- | --- |
| | Reviews |

Philippe Blache / Prog Archives, March 2009

If under the name Amon, Andrea Marutti was at his most lugubrious, menacing or glacially desolate ambiences, Never Known shows a much more cinematically spacey and contemplative side of his musical writing. "On the Edge of Forever" is in the direct vein of albums like "Twilight's Last Gleaming" with its complex natural / elemental ambience. This is probably Never Known's most accessible album. This is quite calm, serene and meditative but without turning cheesy or New Age. The atmospheres are ritual if not mystical with a constant evocation to natural images that communicate together within an endless flux (the crystalline water, the sound of echoes among the rock). I think that this album achieves a subtle balance between celestial "ambient" like ventures and concrete micro-experimentations. "Naked Time" is for instance a ravishing mind-expanding piece, including sound metaphors and cosmic-synth relaxation. "Secret Wealth" pursues on the same compositional schema but insists on more hypnotic, haunted extended textures. "Within a Memory" is a fascinating, almost "aquatic" epic electronic with minimal flows, long synth waves, each musical line and motives seem to be enveloped by an angelic, sonic splendor. A very convincing atmospheric exercise and a must have for fans of eerie drones and expanded "macrocosmic" ambient waves.