| | |
| --- | --- |
| | Amon: The Legacy |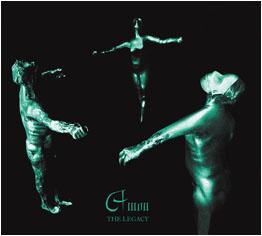 | | |
| --- | --- |
| | Details |
Label: Eibon Records [amn017]
Format: CD in gatefold digipack with transparent tray
Tracks: 6
Playing time: 64:43
Release date: November 1999

| | |
| --- | --- |
| | Track list |
1. Sandstones 11:34
2. The Legacy I: Enter Darkness 12:35
3. The Legacy II: Machinery 9:53
4. The Legacy III: Domes/Colonies 15:21
5. The Legacy IV: Exit Light 5:32
6. Amunhaptra 9:44

| | |
| --- | --- |
| | Press release |
"New disquieting Amon masterpiece. Dark ambient with unearthly and ghostly melodies + unidentified sound sources."

"All the music on this release was recorded between September 1998 and August 1999. On these tracks, I tried to explore new territories with different techniques. I took my time to experiment with new sound-solutions and improvisation played the leading role during the recording sessions."
| | |
| --- | --- |
| | Reviews |

Philippe Blache / Prog Archives, February 2009

"The Legacy" is a vast collection of cosmic synth drones coming from outer space. We travel in complete darkness, through mysterious, haunted and evocative mindscapes. This is in the same mood as other Amon's releases and is still gorgeous to our ears. This is discreet music built on long monotonous-cloudy buzzing dronescapes. The opening track is a dark dense spherical drone that guides the listener in truly desolate place, in front nothingness. Quite beautiful with dying resonances. "Enter Darkness" features unearthly abstract droning textures, revealing almost phantom like presences. It carries on with an austere and spacious sound architecture ("Machinery"). In "Domes / Colonies", the tension goes further with epically bleak ambiences that takes us into a creepy, suffocating ambient universe. "Exit Light" is a much more detached, suspenseful piece built on eerie drones for high frequencies and massive burgeoning echoes. "Amunhaptra" closes the album with glacial subterranean drones. "The Legacy" provides a convincing avalanche of nocturnal drone rituals, creating some vertiginous states of listening. Play loud.