| | |
| --- | --- |
| | Amon: El Khela |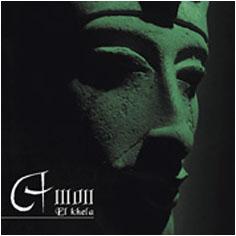 | | |
| --- | --- |
| | Details |
Label: Eibon Records [amn005]
Format: CD in gatefold digipack with silver printed opaline paper
Tracks: 7
Playing time: 69:36
Release date: July 1997

| | |
| --- | --- |
| | Track list |
1. Rise of Thermutis 7:02
2. Khore 10:28
3. Darkside Return 8:52
4. El Khela 11:20
5. She Touched the Stone 4:10
6. Wasted 8:57
7. Ank Sen Amon 18:46

| | |
| --- | --- |
| | Press release |
"Trascending catacombal ambience - the sound of forgotten realms in its purest form."

All the tracks on this release were recorded between September 1995 and May 1997. Different versions of "Rise of Thermutis", "Khore" and "El Khela" were recorded to be published by the canadian label Body and Blood Exploration on one side of an "Amon / Mortar split tape"; unfortunately this never happened, so the tracks were re-worked and used on this CD. Something went wrong at the mastering plant, and the disc artwork (The Amon logo later used on the "Aura EP") presented some imperfections. Almost all this copies were destroyed and the disc artwork was changed.
| | |
| --- | --- |
| | Reviews |

Philippe Blache / Prog Archives, September 2008

This album from Amon (Andrea Marutti) is a particular occasion to invest dark-moving drone textures within a rather detachedd-disembodied splendour: we are not haunted by a hell-ish, apocalyptical electronic "droning" symphony (Lusmord) or "intoxicated" by tumultuous, neurotic sounds (Maurizio Bianchi). The ambience is archeological, exploring the strates of time in antical places. Consequently the dronescapes are developed as sonorous, immersive, low frequencies with lot of reverbs, echoes, driving windy silences. It's a kind of moody meditation with a total absence of melodies, only built on fundamental, static and veiled electronic sentences. This work is honest, well composed and imaginative but it definitely should be listened with a high quality sound installation (in order to appreciate the momentary micro-changes hidden behind massive droning spheres). It can easily ravish fans of Bernard Ghunter, Thomas Koner and those who dream in the heavenly cathedrals of drones.