| | |
| --- | --- |
| | A.A.V.V.: No Abiding Places |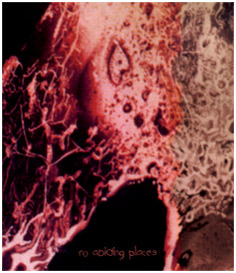 | | |
| --- | --- |
| | Details |
Label: Afe [afe030lcd]
Format: CD-R ltd. to 200 copies in pro-printed triple folder cardboard sleeve
Tracks: 23
Playing time: 76:50
Release date: April 2006

| | |
| --- | --- |
| | Track list |
1. NON ETHOS - Isar 8:02
2. MOAN - Bridge 1:48
3. TRUE COLOUR OF BLOOD - Cire 3:38
4. ETERE-O - Dab 10 1:21
5. ORNAMENT - From Concealed Gardens 6:02
6. BESTIA CENTAURI - Transition X 2:11
7. MOAN - Access 6:56
8. AMON - Untitled 1:09
9. ETERE-O - Eucaliptus Globulus 4:00
10. NON ETHOS - Untitled 2:00
11. CANAAN - Obedience 4:41
12. SUBTERRANEAN SOURCE - Atom Intro 1:05
13. BAD SECTOR - Stasi 2:01
14. AAL - Fosfeni 0:38
15. BESTIA CENTAURI - The Night Land 8:57
16. TRUE COLOUR OF BLOOD - Scene 34 1:04
17. AMON - Stonevoice 4:00
18. ORNAMENT - From Concealed Gardens 1:37
19. SUBINTERIOR - Metropolis 4:32
20. BAD SECTOR - Stasi 0:29
21. SUBTERRANEAN SOURCE - Atom 3:32
22. SUBINTERIOR - Crisalide 1:03
23. AAL - All that Fall 5:59

| | |
| --- | --- |
| | Press release |
Well, it has taken so long to bring you "No Abiding Places", but here we are at last! Including mostly exclusive tracks by aal, Amon, Bad Sector, Bestia Centauri, Canaan, Etere-o, Moan, Non Ethos, Ornament, Subinterior, Subterranean Source and True Colour Of Blood, this is probably going to be one of the most interesting Dark Ambient / Experimental compilation of 2006.

All participants were asked to provide a finished track and an unfinished sketch to be used as a "bridge" between one track and the other.
Andrea Marutti (Amon) took care about compiling and mixing the music to create a long uninterrupted journey through dark territories and uncomfortable landscapes.

It took quite a lot of time to find the perfect combinations between the music created by twelve different artists, so the release date of the compilation was delayed until results were fully satisfing.

Most of the musicians/bands involved in the compilation had one or more releases on Afe during the years, but we're also glad to present exclusive unreleased contributions by our best friends Canaan, Etere-o and Subterranean Source.

Canaan, Bad Sector, Bestia Centauri and Amon are probably the most well-known musicians featured on the compilation and they are widely appreciated for their skills at creating original atmospheres.

aal, Etere-o, Ornament and Subinterior are some of the best kept secrets of the italian underground experimental scene, and we truly hope that their music will get more and more exposure in the future.

Moan and True Colour of Blood are two of the most affectionate Afe foreign artists and they both showcase a unique style at creating Dark Ambient music using software-based synthesis (Moan) and guitar + effects (TCOB).

Subterranean Source debut album was released by Relapse in the USA some time ago; Non Ethos is probably best known for being one half of the norwegian duo Northaunt.

As mentioned before, all tracks on "No Abiding Places" are unreleased, with the exception of Ornament's "From Concealed Gardens", Subinterior's "Metropolis" and aal's "All That Fall", which were included because they perfectly fit to the spirit of this project, and they help to make this journey into the dark side of music even more pleasant.
| | |
| --- | --- |
| | Reviews |
Frans de Waard / Vital Weekly, June 2006

"No Abiding Places" is a no less than twenty-three track compilation but by half the amount of artists. Each artist was invited to deliver a finished track and a small 'bridge' track which could be put in between the finished pieces, in order to provide an uninterrupted playing. That is a very nice idea, and one that works well. However the downside of this is that the music sounds throughout very similar. It's all dark atmospheric deep end rumble that is going on here, and the processed sound of thunder that hoovers among these tracks. Bands become interchangeable and of course you can wonder if that is a big problem. There is no band that leaps out of the ordinary, but it's surely an uninterrupted playing throughout. Switch off the lights, lie back and fear the night, with Bad Sector, Aal, Non Ethos, Moan, True Colour Of Blood, Bestia Centauri, Ornament and more.


ANM / Aural Pressure, July 2006

There are compilations. Then there ARE compilations. Finally there are THE compilations that no self respecting music collector should be without. "No Abiding Places" is one such compilation. Featuring no less than 23 tracks and just under 77 minutes of music it will go down as the bargain of the year. Probably the compilation of the year for many people. More so if those said people are into the whole dark ambient / experimental electronic genres. Wait though… for every silver lining there is a cloud. And the black cloud that hangs over "No Abiding Places" is the numbers of this CDR that are available. 200 copies. I'll type that out in capital letters more further emphasis. TWO HUNDRED copies. I foresee some mightily pissed off punters who will never get a chance to hear this. Happy Hectors they shall not be. The haves and the have nots. Fact of life. Get over it. Those lucky, very lucky, few will find a compilation bursting to the seams with the cream of dark ambient / experimental electronic talent. Featuring: Moan, Amon, Canaan, Bad Sector, Subinterior, aal, Bestia Centauri, Etere-o, Non Ethos, Subterranean Source, True Colour of Blood and Ornament, each act were asked to contribute a finished track, some exclusive to this release, and an unfinished one to act as a bridge between the tracks. Andrea Marutti (Amon) took on the task of compiling and mixing the music to ensure the perfect combination of sounds were achieved. The fact that the recording works on more than one level, dip in as and when you wish or listen to all 23 pieces in one go, is testament to this (difficult) labour of love. With such a quality of artists on display it seems ridiculous to have to go into a description of what you'll find musically on "No Abiding Places". You would need to be like Terry Waite, stuck to a radiator in Beirut for 1,763 days, to have no such knowledge. But for all you newly released captives here's a quick low down. Dark and highly enveloping sound sculptures. Extraordinary electronic effects that probe into the deepest recesses of the mind. Innovative sonics with a penetrating edge. Cold as ice effects that chill to the bone. Journeys into the unknown tinged with fear and loathing. Universes opened up and laid bare for exploration. Not of human origin. A nightmare. A fright mare. A shroud is slowly unravelled, readied to fully encase you in its embrace. The end of time. Of existence. Or the dawning of a new age. Hearing and perceiving only what you will through the music that throws up so many different scenarios for you alone to decipher. To each their own. Thoughts and expressions about the atmospheres created differing from individual to individual. With such a pedigree of artists producing the most compelling of music you will be transfixed by the majestic sounds that they have conjured up throughout "No Abiding Places". The dark ambient and experimental electronic maestros have excelled themselves with their contributions making "No Abiding Places" a recording that can only be called one thing… magnificent. Miss out on this incredible piece of work at your peril.


Andrea Ferraris / Sodapop, September 2006

Sebbene non si possa parlare di un who's who della dark ambient, "No Abiding Places" comprende alcuni dei nomi più importanti del settore, dall'americano True Color Of Blood a Subinterior, da Bad Sector ad Amon. Solita confezione stilosa ed edizione limitata a duecento copie che molto probabilmente verranno bruciate in un batter d'occhio visto che l'intestino del circuito non è per nulla pigro. Il livello di molte tracce è notevole per quanto parecchi pezzi possano risultare tutto sommato scolastici, eppure fra un'ambientazione e l'altra ci sono piccole sorprese e riconferme. Ornament (uno dei due Echran) gode di ottima forma e in fuga rispetto ai suoi vecchi capitoli; i Canaan meno massicci rispetto all'ultimo full-length su Eibon, ma decisamente crepuscolari; Bad Sector in perenne stato di grazia. True Color of Blood regala una perla minimal in "Scene 34", mentre Subinterior tutto sommato non fa che riconfermare le buone impressioni che avevo avuto dal suo disco su Afe. Una raccolta molto omogenea dove l'atmosfera plumbea è un po' un must come il tappeto di doppia cassa nei pezzi degli Slayer, ma tutto sommato credo che sia anche quello che é lecito aspettarsi per non rischiare dei collages senza nessun filo logico. Come detto in precedenza il circuito post/dark ambientale gode di buona salute ed ha un suo pubblico almeno per la produzione discografica (basti vedere Alio Die e Maurizio Bianchi redivivo in salsa ambientale)... Eppure il seguito si riduce drasticamente dal vivo: sarà perché l'Italia è poco recettiva all'elettronica, sarà per colpa dell'esterofilia pecoreccia che abbiamo ereditato a botte di Drive In, sarà perché non si può fare head-banging. E pensare che un ex SPK e Lustmord ad Hollywood lavorano alle colonne sonore dei film: te lo ricordi siggnnò!?


Eugenio Maggi / Chain D.L.K., December 2006

After a long working, the "No Abiding Places" sampler finally sees the light, which could easily give way to a mediocre pun, since this is pure, unadulterated dark ambient. The disc features Non Ethos, Moan, True Colour of Blood, Ornament, Bestia Centauri, Amon, Etere-o, Canaan, Subterranean Source, Bad Sector, aal and Subinterior. Most of them have one or more releases in the Afe catalogue, and are featured here with unreleased or rare recordings. Far from being the usual sample, this collection has a HUGE work behind, both in terms of selection (even usually "brighter" artists like aal or True Colour of Blood are particularly obscure) and mastering - Andrea "Afeman" Marutti has skilfully blent each full track with selected fragment from all featured artists, so that the CD sounds like one enormous monolith. This could serve both as a deepening of the Afe roster, and an introduction to dark ambient - fans of dark drones will surely rejoice in their catacombs.